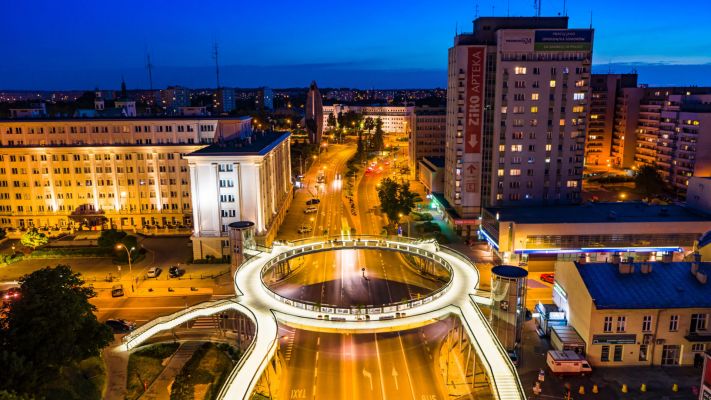 The Round Overpass
The Round Overpass
The unique shape and materials used, functionality, effective backlight are the features of one of the most interesting projects that we can see in Rzeszów over the intersection of Aleja Piłsudskiego and Grunwaldzka Street.
The construction of a footbridge enabled the separation of pedestrian and car traffic and improved traffic liquidity for over 20 thousand. vehicles passing this route every day. A pedestrian crossing was liquidated through al. Piłsudski, who during rush hour moved about 1,700 people per hour. The transfer of pedestrian traffic from the avenue to the footbridge improved on pedestrian safety and enabled reorganization of traffic at the intersection itself. On ul. Grunwaldzka, on both sides of the intersection, left turn and straps straight belts were added. Thanks to this solution, the driver joining the traffic with ul. Grunwaldzka gained the possibility of direct left turn - in the direction of Przemyśl or towards Krakow, respectively - and driving straight through the avenue.
The Rzeszów footbridge is unique in the whole country, not only because of the shape - round load system and sloping supports - but also because of the equipment: specially tempered and glued glass for balustrade, enclosed elevator windows, light illumination of the entire facility and finally African wood , from which the footbridge bridge was made. The surface of the footbridge was lined with an exotic wood species Azobe Bonosi. Azobe imported from Cameroon is one of the hardest and most resistant wood species in the world.